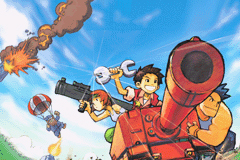 UPDATE -- 18 December 2017 -- Over the past few months, AWBW has undergone a series of reconstructive efforts to bring the site back to full functionality. Since the server merge, the Global League has been completely restored. Along with these major developments, members of the AWBW community and Map Committee have also worked to give the site long-overdue aesthetic and functional changes: All of which are recorded in the Changelog.
Welcome
This Wiki was created as a resource for new and old members alike. If you have suggestions for the Wiki, forward them to the Map Committee.
New Forum ( from January 2014)
Beginners please note that awbw may contain some bugs, glitches and does not always 100% match the original Advance Wars series.
If you run into problems please ask on the discord server or on the New Forum.
Old Forum The old forum is read-only. Some of the information there is outdated. Alternatively the info from old forum is also available in the wayback machine archive
Table of Contents